When working with electronic systems, there are a number of different voltage concepts which affect input power levels and overall system functionality. These include safe input voltage range versus common mode input voltage range and over-voltage protection versus electrostatic discharge (ESD) protection. This article will cover some basic information regarding these concepts as well as provide some guidance with respect to DTS systems such as when to use resistors and/or voltage range expanders.
Safe Input Voltage Range
The safe input voltage range for a system is the range of input voltages which can be applied to the system which can both allow for proper function of the system as well as avoid inflicting damage on internal components. Every electronic system is subject to safe input voltage ranges, but those ranges will vary with each individual system design. It is important to carefully review system datasheets/user manuals to identify the safe input voltage range for a given system.
Common Mode Input Voltage Range (VCM)
Also known as the input voltage swing, this term describes the range of input common mode voltages that can be used for normal linear operation of the internal differential instrumentation amplifier. This range is always defined relative to the positive and negative supply voltages of the amplifier. When this voltage range is exceeded, the amplifier output becomes nonlinear.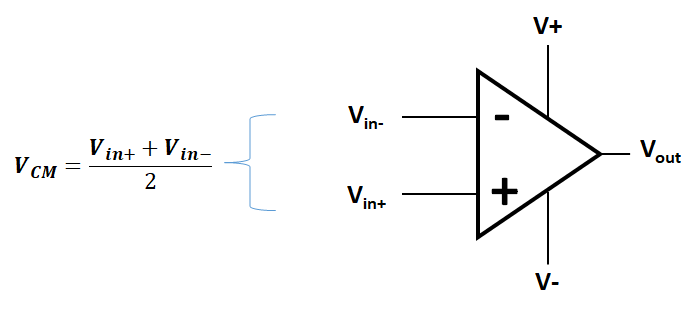 It is important to note that the positive and negative supply voltage values may not be used in-full when determining the common mode voltage range for an amplifier; there may be head/foot-room voltage values which are required by the specific model that will further limit the available common mode range values. Therefore, it is always recommended to carefully examine the system datasheet to ensure your values are within expected operational ranges.
Safe Input Voltage Range Versus Common Mode Voltage Range
The common mode voltage range should always be within the safe input voltage range, however, it is usually a subset of the safe input voltage range. It's also important to note that exceeding the bounds of the common mode voltage range doesn't necessarily mean that damage to the components is possible; rather that the linear output of the amplifier is no longer guaranteed and output data may experience clipping. However, exceeding the safe input voltage range for a system always carries the risk of creating an over-voltage condition which can cause damage to the system.
Over-Voltages and Over-Voltage Protection (OVP)
Over-voltages are all voltages that exceed, even temporarily, the safe input voltage range of a given system. These voltages, no matter how 'close' to the threshold input range, have the potential to cause damage to the supplied system -- as well as any other systems connected downstream from the one affected by an over-voltage event due to the potential for erratic output behaviors from the initial system.
Over-voltage protection (OVP) is a design feature which either completely shuts down the power supply output to a system or clamps the output to a preset level in the event that voltage levels exceed a preset limit. As mentioned above, this feature is extremely important, as it helps to limit damage from over-voltage events to all connected systems.
ESD and ESD Protection
Electrostatic discharge (ESD) is the sudden flow of electricity between two electrically charged objects caused by contact, an electrical short, or a diaelectric breakdown. While ESD can create visible electric sparks between objects, it is important to note that not all ESD events can be seen/felt/heard by a user despite having enough potential to cause damage to sensitive electronic systems. Hence the importance of ESD protection devices/circuits/methods used in manufacturing of modern electronic devices.
When working with any electronic system, it is recommended to limit environmental conditions favorable to ESD events as much as possible. These methods can include using ESD-safe floor/surface mats, wearing of grounding straps/anti-static clothing for personnel, usage of anti-static storage bags for storage, among others.
Most electronic systems have been designed with some level of ESD protection device/circuitry built-in so as to provide an extra layer of protection. These circuits/devices work to reroute the high voltage introduced by the ESD event from sensitive internal components to a ground plane which can dissipate the charge without causing damage. However, most of these circuits/devices are limited in the amount of ESD charge they can divert; so it's best to implement ESD-safe practices when handling any electronic system.
Over-voltage Protection Versus ESD Protection
While an ESD event is a type of over-voltage event, not all over-voltage conditions are the result of ESD events. ESD events tend to be high-voltage, short-duration events, whereas an over-voltage event can be long-lasting depending on the source. For example, if an input power supply is set to a threshold above the safe input voltage range for a system without appropriate OVP settings, the power supply will continually supply the excessive voltage to the system so long as it is active.
Evaluating DTS System Voltage Ranges and Protection Requirements
All DTS systems have transient voltage suppression diodes that act as ESD protection devices and limit the input voltage range to -1V to +7V. These diodes seek to clamp out-of-range voltage levels to within the the accepted range. However, these diodes are not meant to act as permanent voltage range expanders, as their effectiveness can be affected by temperature, current levels, and design limitations for their own safe input voltage ranges. Instead, these are meant more as an extra layer of protection should an unintentional over-voltage event occur.
System

VCM

Safe Input Voltage

Maximum Vswing

ESD

Micro/Nano/IP68

0.1 - 4.9V

0 - 5V (BRIDGE),

0.5 - 23.5V (IEPE)

± 2.4V

8kV*

SLICE6/SLICE6 Air

0 - 5V

0 - 5V (BRIDGE),

0.5 - 23.5V (IEPE)

± 2.5V

8kV*

SLICE PRO

-2.5 - 7.5V

-2.5 - 7.5V (Bridge),

0.5 - 23.5V (IEPE)

± 2.45V

8kV*
*Human Body Model
Using Range Expanders and External Resistors with DTS Systems
Sometimes, the test environments we work with require input voltages outside of a system's safe input or even common mode voltage ranges. In the event that a test event requires measurement or use of excessive voltages, there are several methods of regulating those voltages down to acceptable levels while maintaining data integrity. Two of these methods can be using a voltage range expander cable/circuit or an external in-line resistor used to limit current draw.
Generally, a voltage range expander cable/circuit is used when an input signal exceeds the common mode voltage range for a a system's data collection architecture. The range expander acts as a voltage divider for the input signal, bringing the voltage levels down to within the acceptable common mode voltage range for the amplifier inputs. You can find more information on the use of voltage range expanders in this article.
An external in-line resistor is more often used when the over-voltage condition is relatively close to the safe input voltage range. This resistor is placed in between the voltage source and the test system and is used to limit the current draw between the two. By lowering the current, the excessive voltage has a lower chance of causing damage to the susceptible system. However, use of a current limiting resistor should be carefully examined before opting for this method of protection, as its effectiveness is limited to a very small over-voltage window above safe input voltage ranges. Current in the over-voltage conditions should be limited to no more than 10mA, as a conservative rule.